Flutter, historia del desarrollo de una app real
Presented by: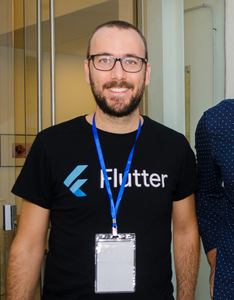 Llevo más de 10 años trabajando en proyectos de desarrollo web y móvil. Disfruto creando productos digitales a través del software, sobre todo aplicaciones móviles. Hace un tiempo conocí Flutter, la nueva tecnología de Google para desarrollo de apps, y ahora estamos centrados en ofrecer servicios de desarrollo usando esta increible tecnología.
En mi tiempo libre ando inmerso en la comunidad 'Google Developers Group Marbella' a través de la cual organizamos eventos tecnológicos para compartir conocimientos con la comunidad local. Nuestra última gran aventura, #FlutterConf - https://flutterconf.dev.
No video of the event yet, sorry!
Historia sobre la experiencia de desarrollar una app en producción con la nueva tecnología de Google, Flutter.
Esta novedosa tecnología ha despertado mucho interés en la comunidad y Google está apostando fuerte para que se convierta en un referente entre los desarrolladores de apps, por lo que es interesante conocer su potencial y las posibilidades que ofrece a través de un caso de uso real.
Date:

2020 April 24 - 11:00

Duration:

45 min

Room:

Sala 2

Conference:

Language:

Difficulty:

---

Happening at the same time:

Start Time:

2020 April 24 10:00



Room:

Aula 1

Start Time:

2020 April 24 10:00



Room:

Aula 2

Start Time:

2020 April 24 11:00



Room:

Sala 3

Start Time:

2020 April 24 11:00



Room:

Sala 1